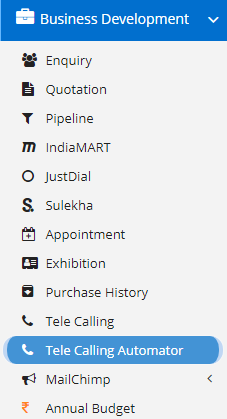 Telcalling Automator which automates the process of assigning the call records to the user for their further action. The process will happen periodically as per the rules defined the admin or any other user who has the permission to do so.

The module is pretty much easy and straight forward but we will go through this module once.
There are two major field like Assigned From and Assigned To, this will allow you to assign telecalling records based on the conditions defined. This assign the records from one user to another.
Record Assignment field will allow you to define the number of records that a user should be assigned based on the Frequency specified. The next field is Validation Type, which allow the user to select which type of telecalling records that are to be assigned to the user. Mainly, it could be Validated, Non-Validated or Both and based on the selected criteria Nafhaa Engine would work in the background.
Finally, you will have enable the rule, else, Nafhaa Engine would simply ignore the rule defined.
Also please enable "Enable Telecalling Automator Scheduler" settings from Scheduler Settings.