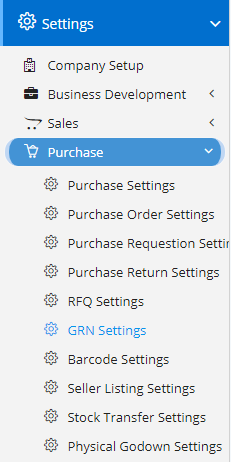 GRN Settings can be accessed by going into Settings menu as shown in the side image
Enable Custom Numbering – This will enable custom numbering field in GRN which will allow the user to specify the custom number.
Enable Serial Number in GRN Products – This will enable Serial number in GRN Products which will allow you to add the same.
Enable Sub-contacts in GRN – This will make a field visible in GRN to select Sub-contact as a point of contact.
Enable View To All in GRN – This will enable a new switch in GRN, using which the user can turn the switch on. Enabling the switch will make the record visible to all the users irrespective of the hierarchy implementation.