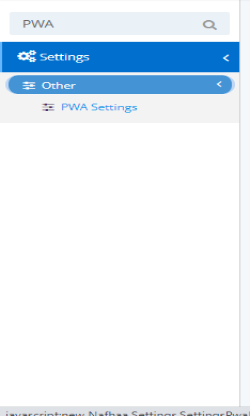 As shown in screen, PWA settings can be opened from PWA Settings menu.
Progressive Web Apps (PWAs) are web apps that uses service workers, manifests, and other web-platform features in combination with progressive enhancement to give users an experience on par with native apps.
PWAs are web apps developed using a number of specific technologies and standard patterns to allow them to take advantage of both web and native app features. For example, web apps are more discoverable than native apps; it's a lot easier and faster to visit a website than to install an application, and you can also share web apps by sending a link.
In Nafhha the PWA settings include option for Enable PWA for portal, Enable notification on Device and Enable share to Apps. When Enable PWA for Portal setting is ON then user can install the application on local machine.
As shown in screen, at right top corner installation option came to user.