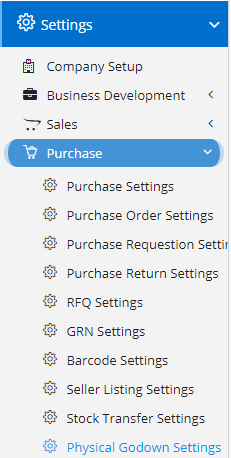 Physical Godown Settings can be accessed by going into Settings menu as shown in the side image.
Enable Quantity in Case(s) and Number(s) in Physical Godown – This will enable the user to add the Quantity in the form of Case(s) and Number(s) which will total the values entered in the form of total Quantity.
Send Auto Mail For Cut Off Time – This will enable an options, which will allow the user to specify the cut-off times after which mail is to be sent.

Cut Off Time – User can define the time in 24 Hours format like – 09:45
Cut Off Email ID(s) – Users can define the Emails as comma separated which will used by Nafhaa Engine to send mails.
Cut Off Email Details – This will send Details in Email about the cut-off.