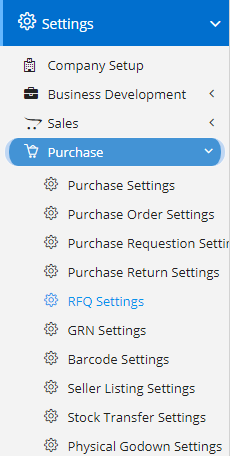 RFQ Settings can be accessed by going into Settings menu as shown in the side image.
Enable Enquiry Details Mandatory – This will make the Enquiry fields like Id which will contain the Id or Custom number and Enquiry Date whichever is applicable wrt your settings.
Enable Supplier per Line-item – This will enable a field in Products where you can select the supplier for each of the products added to the list.
Make Attachment Mandatory in RFQ Response – While providing/specifying the response received from the Vendors regarding the products you can add an attachment with related documents with other details.
Enable Auto Email to Assignee – This will send an Email to the Assigned user with a notification and information about RFQ.
Enable Custom Numbering – This will enable custom numbering field which will enable the user to set the numbers. Please note – This field is auto generated based on Financial Year. But, you can change it and it will affect further generation of serial number.
Enable Multi-Assign in RFQ – This will enable Multi-assign field, where the user will be able to assign multiple users to single record. This will affect the record visibility.